Area Snowman Braces for Finals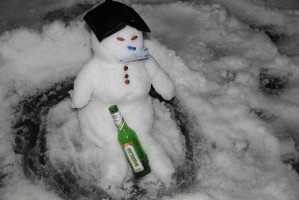 EVANSTON — Weinberg snowman Frosty McFrostkins is not "a jolly, happy soul." The environmental science major says he feels "stressed" due to his four finals next week as well as Evanston Mayor Elizabeth Tisdahl's cease and desist order against his student group Fairytale Leaders and Knowledgeable Entertainers' (FLAKE) capstone event: a corncob pipe making party.
McFrostkins, a sophomore, is a transfer student from Alaska Pacific University. He says he enjoys the warm weather at Northwestern as well as the presence of a strong theater program and the School of Education and Social Policy, which give him many chances to dance with young children, a favorite tradition from back home.
Nevertheless, the stress of impending finals is taking a hard toll on McFrostkins. "I haven't had time to laugh and play in weeks," he said. "And I keep hearing this strange beating noise in my head—thumpety thump thump, thumpety thump thump—it's driving me mad."
"I just can't wait until this quarter ends. I feel like I have hills of snow to climb over."
He added, "And I keep sweating. I mean, I know the sun is hot and all, but it's still December. This isn't right."
McFrostkins said that the one thing keeping him sane is the knowledge that a Northwestern degree is not essential for finding a job. "A broomstick has always felt natural in my hand. I'm not completely opposed to janitorial work."
In any case, McFrostkins is excited for winter quarter to begin. "I'm really looking forward to it. I'm thinking I'll try to rush, maybe Fiji. I just have this dream of running around the square in downtown Evanston, thumbing my big carrot nose at a traffic cop, not caring if he hollers, 'Stop!' Joining a frat seems like the best way to make that happen."
The interview was cut short when McFrostkins said he had to hurry on his way, but he waved goodbye and said he'd be back again someday.
In a tragic recent turn of events, however, McFrostkins melted after spending the night in jail. The police report said the student was arrested for distributing homemade alcohol to minors and evading arrest. "McFrostkins claimed he was dashing through the snow and making spirits bright," said the report.