Rowling Pens Final Installment: Harry Potter and the Custody Feud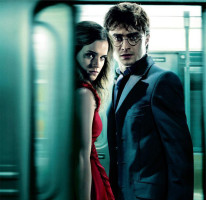 LONDON — In light of recent revelations that Ron and Hermione should not have ended up together, author J.K. Rowling has released an eighth book in the celebrated Harry Potter series. This final installment chronicles the messy divorce and subsequent quest of the title character to make the center of his love life what it ought to be: Hermione Granger. The stunning beauty of the brilliant Gryffindor proved too much for Harry to resist, and Ginny found herself alone.
Harry Potter and the Custody Feud begins approximately six years after the epilogue of the seventh book. Harry has sunken into a Firewhisky addiction, attempting to drown his sorrows in shot after shot of the beverage and damaging his liver faster than an Acid Pop burns through a tongue. Ron and Hermione are still married, though unhappily, and swarms of vicious attack canaries are not uncommon in the Weasley household. Ginny recently moved out and took the kids, leaving Harry on his own. The majority of the book takes place in the courtroom, where Harry eventually loses his kids, his wife, all his money, and the flat in which the troubled family had been living.
The book closes as Harry reveals he has been using a Time Turner for years to revisit that steamy night in the forest following Ron's Disapparation in the seventh book. Hermione, smitten by Harry's devotion, rides off on Harry's broom.
"Look, it's just better this way," explained Rowling. "Harry's one of the greatest wizards that ever lived. Ron has always been a bit of a curmudgeon. I'm not sure why I thought anyone would choose Ron over Harry. And Hermione? Why, she's just bloody gorgeous. She could cast a spell over any man in the wizarding world. It was really only a matter of time until the thick-headed Weasley wasn't good enough for her."
The societal impacts that have always followed Rowling's books were increasingly evident after this latest release. Women all over the world see themselves in Hermione's struggle and are leaving their deadbeat husbands for more 'magical' men. In turn, sales of round, wiry glasses for men have skyrocketed, as have medical emergencies related to wounds resulting from "trying to get a lightning bolt."