Man Eats Both Nature Valley Granola Bars at Once Like a Goddamn Barbarian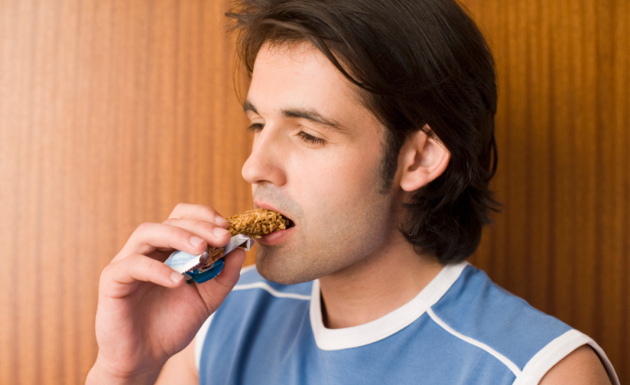 URBANA, IL — As onlookers watched in disgust and revulsion, University of Illinois junior Brian Torrey tore open the package of his Oats and Honey-flavored Nature Valley bars and proceeded to bite into both at once like a wild animal.
"Jesus Christ, it's like we're watching Animal Planet over here," said Jamie Finnegan, who was sitting next to Torrey in the meeting they were both attending. "Brian went after both of those bars like a freaking primate. Who the hell does that?"
Sources indicate that the makers of Nature Valley granola bars include two portions of the snack in every package for the purposes of prolonging the eating experience, sharing one bar with another person, or even saving the second bar for later. Torrey neglected all of these advantages, however, and just dove into both servings at the same time like a rabid, starved Neanderthal.
"Frankly, we at Nature Valley find this behavior a violation of our product, and Torrey's eating habits in no way reflect the kind of consumer we wish to attract," said John Baringer, president of public relations at Nature Valley. "Seriously, what a goddamn ape."
As Torrey continued to tear the plastic wrapper away and consume more of the snack, the surrounding crowd became increasingly sickened by his gluttony and greed.
"Look at him, hunched over like an asshole," said Finnegan. "He just can't stop shoving it in his goddamn face. He reminds me of one of those feral children they find locked in closets, scattering all his fucking crumbs everywhere. God."
Reporters reached out to Torrey, who was apparently raised in some kind of barn, for comment.
"I found this at a gas station," said the self-gratifying hoarder. "They usually have the peanut butter ones, but I was there on Thursday, so they were all out, so I had to get the green kind."
"It's ok though, they're still good," he added as he took another gargantuan bite, probably to compensate for the lack of satisfaction he finds in other areas of his shitty life.
As of press time, Torrey was polishing off the bar when he choked on one of the final pieces, spraying bits of granola bar all over the table in front of him.
"Damn sicko," said Finnegan.