Mother's Day Spawns Chaos in Lesbian Household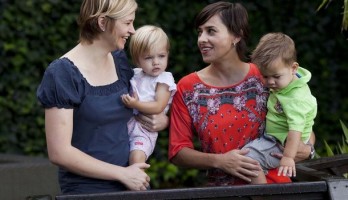 TOLEDO, OH — Two wives debated Sunday the extent to which Mother's Day is a means for people who love each other to express their mutual affection or yet further evidence of institutionalized sexism within their nation's borders.
"The simple fact is that the patriarchy is keeping us down!" yelled area mother, Suzanne Neopolis, to her wife Linda Jenkins, on what the latter woman claimed was supposed to be a "Happy Mother's Day."
"All I want," retorted Jenkins, "is some nice flowers and a hug! Is that too much to ask?"
"Yes!" screamed Neopolis. "Very much so it is! So exceedingly very much so!"
While adopted daughters Belinda, 2, and Besuzanne, 1, looked on, Neopolis continued, "We need non-gendered parent's appreciation days!"
"What would you call it?" responded Jenkins.
Neopolis fumed silently for a moment. "Does it matter?"
"Of course it matters," said Jenkins. "I'm not going to go down to fucking Walgreens and buy a card that fucking says 'Happy Non-Gendered Parent's Appreciation Day!'"
Neopolis and Jenkins, who married in 2010 in Iowa, have had this argument every year, resulting in both women storming out of the house in a rage. Fortunately, says Jenkins, their "undying affection always reunites [them]."
Neighbors report that Neopolis and Jenkins also have this argument every Father's Day, while local gay couple Percy and Bert Arnoldson call it "the best holiday since the invention of Gay Christmachanukwanzaaka."