Robert Downey Jr.'s Real Reason for Visiting Northwestern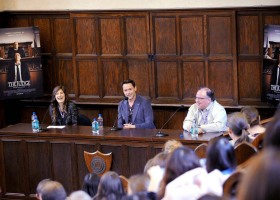 By Matt Lafond 
Billionaire playboy Tony Stark, also referred to by the alias "Iron Man," reportedly made an appearance at Northwestern University's Chicago campus to speak with law students this past week. Not much is known as to why the CEO of Stark Enterprises decided to stop by the law school, but his presence led to numerous speculations among students as to the purpose of his visit.
One theory that can be heard among students is that Stark was using his speech as a front and that the real purpose of his visit could be found behind the walls of Tech. "It seems to me that Mr. Stark was most likely at Northwestern to develop a new set of armor," McCormick Senior Bill DaSoot recently said. This theory is not without its merit. It is widely speculated that after defeating a super villain referred to as "The Mandarin," Stark destroyed all of his super suits in order to appease his girlfriend. Thus, if he did desire to build a new suit, he would most likely need to do so in secret.
Another popular theory as to why Stark was in town was that he was seeking legal advice from the Northwestern law students he spoke with. Recently, Stark, along with the other members of the team "The Avengers," battled against an alien invasion in New York City. The fight left the city in ruins and caused, according to the Kinetic Analysis Corporation, an estimated $160 billion in damage. This knowledge leads multiple sources from Northwestern's Legal Studies department to infer that Mr. Stark and the rest of the Avengers will in fact need to find themselves good lawyers in order to avoid paying for all of the damage they caused the city of New York.
Still, whatever the reason for Tony Stark's trip to Northwestern, his presence on campus has certainly created a buzz of excitement among students. It is not often that a true superhero graces our school with his presence.