Lost Freshman Found, Shown Where Einstein's Actually Is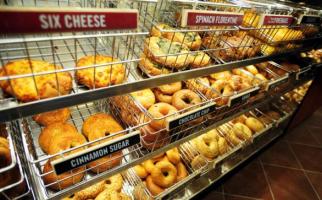 By Alexander Kurland
NORTHWESTERN TECHNOLOGICAL INSTITUTE – After two days of searching Tech and surrounding buildings, investigators finally got a lucky break in their search for a freshman who disappeared after Chem 101 last Monday. Telling his friends he "totally knew where he was going" to get a bagel from Einstein's, he walked off to the depths of the Tech basement. Though his roommate did not notice his absence, his Peer Adviser became concerned after being ignored more than usual.
Working with the Northwestern Police Department and volunteers from the Secret Service (who insisted they didn't have anywhere better to be), Detective Earl E. Birdwyrm from the Chicago Police Department finally discovered Daniel Gresbach, WCAS '18, originally of Boston, Massachusetts, in one of the many steam tunnels connecting Tech to other north campus buildings. He was cleared by paramedics at the scene with minor scrapes and bruises, mild disorientation, and an ugly looking stubbed toe from his two-day adventure.
Gresbach told the Flipside he had survived off discarded Starbucks drinks, almost exclusively pumpkin flavored items, strewing the halls of Tech, as well as some of the more edible lab materials left out overnight. "[Tech] is a maze, man. I didn't think I'd ever get out," he said, still squinting in the daylight. "I can't believe more people haven't gotten lost trying to find the Einstein's in here."
Upon finding the errant adventurer, Detective Birdwyrm directed him next door to Pancoe Pavilion, the actual location of Einstein's. Gresbach was chagrined to learn it was not in fact in B-Wing, his original point of entry. "Not only was I in totally the wrong place," Gresbach says, "I realized after 4 hours that I didn't even have my WildCard on me! Luckily the guys who found me were pretty chill about spotting me a couple bucks." Detective Birdwyrm declined to comment on use of tax payer funds for Einstein runs, citing his busy schedule of additional Tech rescue missions.
When briefed on Gresbach's misadventures, President Schapiro vowed to further rehab Tech, putting up even more televisions with information for people to ignore and suggesting a new Starbucks for the steam tunnels.