Football Team Inspires Spontaneous Wave of Nihilism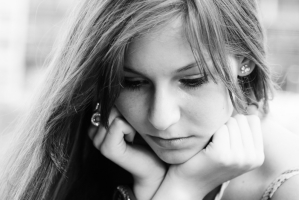 EVANSTON – A dark cloud hung over Northwestern's campus Saturday night as freshmen and super-seniors alike buried their heads in their hands and just wished that it was over, about two minutes into the fourth quarter. Fatalistic conversations between strangers have been reported all over campus in the wake of Northwestern's Homecoming game loss to people who remove the leaves from corn.
"It was, like, seriously depressing," said Jessie McHooch, Medill '17, as she knocked back another shot of an undisclosed liquid in a flask. "Our team was literally supposed to be amazing now that we beat Wisconsin. I don't think I can handle all this disappointment." Multiple sources reported that at this point, McHooch began to cry.
"My roommate and I were talking, and…. What does life mean anymore?" said Tappa Tappa Keg brother Greg Blum, waiting to ambush anybody who tried to enter the frat house with his new understanding of the meaning of life. "I thought those vibes… They were so good. But they're gone. Why!?!?….?" The frat even reported that it ran out of booze as so many disappointed fans tried to self-medicate.
Reports have indicated that there has also been a wave of insomnia following Homecoming as disappointed roommates have shared with each other their dismal outlooks on the season. "We just talk about the universe and stuff. And last night, well, we couldn't stop," said That One Girl in My French Class, leaning over her textbook and dropping her pen as her head came to rest on a picture of Nicolas Sarkozy.
When asked why he wasn't upset, Head Coach Pat Fitzgerald said, "Oh, I am. But I just don't care anymore. Life is meaningless. I caunnsilnnnisnnsn…" At this point, Fitzgerald began stuffing his mouth with tear-soaked Cheetos, causing his words to be indecipherable.