Basic Girl's Guide to Winter at Northwestern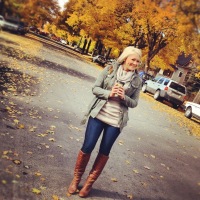 By Alyssa Wisnieski
Whether your inner basic-ness is innate or acquired, we at The Northwestern Flipside are here to help you accentuate your basicity as much as possible in the coming winter months.  Our top picks will have you at a pH of 15. 
We know that you already have the basics of being basic down, so here are some extra tips for you pumpkin spice latte-loving, Northface and Uggs-wearing, Taylor Swift-singing bitches out there.
1.) Zumba at SPAC.
OMG a perfect reason to go out and purchase some brand new yoga pants!  The Henry Crown Sports Pavilion and Aquatics Center offers Zumba classes all throughout the day.  For the ultimate basic girl, we recommend spending literally hours talking about how you much you love and want to go to Zumba, and then proceeding to attend class at approximately never o'clock.
2.) #OOTD
Since everybody clearly wants to see an awk mirror selfie of you every morning, daily Outfit of the Day posts are a necessity this winter.  Don yourself in your best oversized sweater; throw your hair up in a messy bun; snap, filter, and Instagram a picture, and Voila!   Basic status achieved.
3.)  "Excuse me, it's called brunch."  
In the land of basics, you don't refer to your midmorning meal as either breakfast or lunch, and you take extreme offense when others label it as such.  Typically, you do this at a quaint non-chain cafe, because, duh, you "support local business."  In Evanston, the Unicorn Cafe is a good option: food + mythical creatures>>>>.
4.)  Hang Christmas lights in your living space.
Decorate your apartment or sorority house with festive lights for the coming holidays.  Make sure to take plenty of pictures to show your basicness off to your friends and family.  If you live in a dorm, you have the upper-hand here, because you can put up lights but you can't turn them on due to university policy — a fact that you will continually whine to your friends about.  You don't get much more basic than nonfunctional decorations and b*tching.
5.)  Host a gingerbread house making party in your sorority.
Grab all your *fave* sisters and gather round the store-bought gingerbread kit you picked up from Target last week (we know; it was literally the best purchase of your life).  If you really want to overachieve, feast on warm apple cider and pumpkin muffins while you work.  Not in a sorority?  You said you wanted to be basic, right?  Well, on a scale of one to Miley Cyrus, you are wrong.  Reconsider your lifestyle choices and try again.
6.)  PHOTO-OP!
If you have a phone or camera in your hands, you are basically a professional photographer.  Take pics everywhere on campus and send them out into the vomit that is social media.  Snapped a pyramid pic with your friends by the lake fill?  So #fun.  Got a "candid" (it's a relative term…over-posed totally counts here!) selfie?  So #cute.  Lots of pictures from the tailgates of the football game you didn't even attend last weekend?  So #college.  These are moments that practically demand to be shared with the world! (Or your 1,000 closest friends)
7.)  Be a doll and share this article with all your friends to help enlighten them with tips about the pH of 7 or greater lifestyle. Or just share a bunch of Buzzfeed puppy articles. They both have the same effect.