Your Racist Relative Named Race Relations Expert for Insight into Situation in Ferguson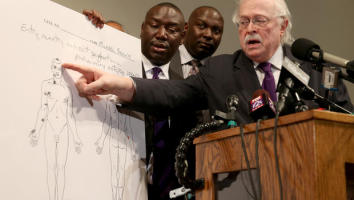 By Alyssa Morvis
STONE MOUNTAIN, GA — In a press conference held on Sunday afternoon, representatives from the National Association of the Advancement of Colored People (NAACP) announced their official recognition of that one racist relative of yours, Robert Sanderson, as an expert on United States race relations. 
Sanderson was honored for his recent work on a study of the shooting of an unarmed African American teenager by a white police officer in Ferguson, Missouri. The conclusions of this study were released to Sanderson's Facebook page, and included "Stop jumping to conclusions, this isn't about race", "Black on black crime occurs everyday: why isn't anyone talking about that?", and "If the cop was black and the kid was white you wouldn't care."
The NAACP praised Sanderson's insightful analysis of the Ferguson case as completely race-blind, as well as Sanderson's consideration of how the US criminal justice system's long history of targeting African Americans through profiling, excessive use of force, or police brutality had absolutely no relation to the events that transpired in Ferguson. These actions confirmed Sanderson's ability to contextualize current events within America's history of systemic, institutional oppression of African Americans and helped to qualify him for the title of US race relations expert. 
Sources confirmed that Sanderson spent an impressive total of two minutes analyzing grand jury evidence and zero years experiencing life in the United States as a young African American man before arriving at the conclusion that the Ferguson shooting and following lack of indictment of the officer responsible "isn't about race."