Northwestern Career Advancement: How To Get a Job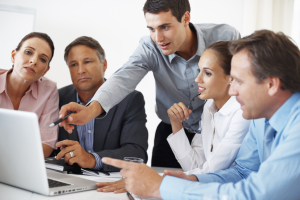 It's that time of year—Grandpa Jack wants to know where you're working this summer and your Aunt Sally has yet again implied your desired field is dying. If the consulting career fair hasn't gotten you down yet, your dwindling student checking account definitely has. It's time to get a job.
Consulting & Finance
I hope that free money was worth selling your soul, but if you have an extra Deloitte-branded cell phone charger, I want it.
Liberal Arts
The "well-rounded" majors of History, English, Psychology and whatever else Weinberg has to offer will prepare you well for any number of occupations. Look into teaching, municipal government and sales…and then apply to Boston Consulting Group.
Business Lite
Communications Majors like to say they're pre-law but we know what's up: you didn't want your school experience to interfere with your college experience. Sit your first LSAT and then throw out all of the books you never read and start practicing case studies—you're going to work at Accenture.
Engineering & Science
That co-op will hopefully pay off, both in jobs and the freshmen you will creepily hook up with as a fifth year senior. After rethinking, try interviewing at PwC.
Theater & Fine Arts
Start battling it out now to decide which one of you will be Julia Louis Dreyfus. Everyone else will need to talk about the financial management experience gained by throwing fundies and then get hired by Towers Watson.
Social Justice
Look into Chicago-area non-profits before you realize that starting salary isn't missing an extra zero and decide a life with Ernst & Young won't be that bad.
Political Science
You volunteered for Brad Schneider too? Nothing prepares you more for a career at Oliver Wyman than working for scum-sucking politicians.
Journalism & Media
Medillionaires—you've pledged to save the world by covering Rwandan refugees, exposing scandal on the Hill and single-handedly ending racial tensions in South Africa. You've sacrificed everything for that one man-on-the-street interview in Rogers Park and promised your first-born child in exchange for your dream JR site but it's time to throw your audio recorder out of a ten-story building because if journalism school has taught you anything, it's that no one know what the hell consulting is but apparently anyone can do it.