NU Qatar Crowned Doha's Big Ten Team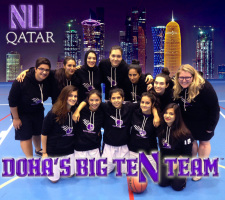 DOHA, QATAR—On Monday, January 26th, Northwestern University in Qatar announced its team had won the Qatar's intercollegiate women's basketball tournament. Last Saturday, Vice President of Athletics and Recreation, Jim Phillips, made an announcement of his own. "To honor NU Qatar's superb victory, the NU athletic department officially declares NU Qatar as Doha's Big Ten Team," he said in a speech to the Northwestern administration.*
Authorities have questioned Phillips' decision. "There is no Big Ten in Qatar," pointed out one skeptical sports fan. "In fact there's only 8 universities in Education City, so at most there could be a Big Eight."
Others have expressed confusion over how they should refer to the team. "Is it pronounced kah-tar, or cater?" asked Lily Lengua, MSJ '18.
NU Qatar has refused to let these points dampen their enthusiasm, however. Already billboards advertising the team have sprung up like oil refineries (one pictured here). Students are optimistic about the future of their athletics program. "We've successfully sustained a Journalism school amidst one of most heavily censored societies in the world," one emailed The Flipside. "What can't we do?"
*a.k.a. PR department.