A Love Letter from Allison to Bobb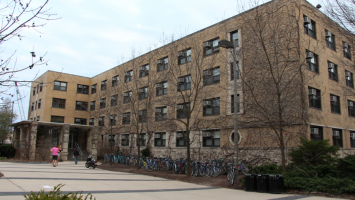 My Dearest Bobb,
I count the hours we are apart, the way the student at Sargent counts the people in the Grill line, with despair and then slowly-growing hope as the number of people between him and a double chicken sandwich with American cheese dwindles. When we are together, my joy is as numberless as the yaks complaining about the weather.
You are the most beautiful thing I have ever seen. Your windows glisten in the sunlight as only the tears of Math 230 survivors can. Your beautiful bricks perfectly match Evanston winters. Your faint odor of shit brings to mind the essays English majors write. I wish I could spend as much time with you as pre-meds spend on Orgo, because Bobby, we've got chemistry.
We've had our ups and downs like the bumps on Sheridan, as any true couple has. I know of your transgressions with Francis Searle (was it because she was closer, because she was more accessible than me?), but I would be lying if I said Shepard hadn't provided me with some comfort during the cold winter. It meant nothing to me, as I know your dalliance with Francis Searle meant nothing to you.
I love you, Bobb. I love you like basic bitches love pumpkin spice, like sorority sisters love Sorel and Canada Goose. I love you the way McCormick loves the tears of the innocent, and I love you the way the History Department loves producing unemployed graduates. I love you like Kellogg loves looking down on everyone. I love you like Searle loves being unhelpful. I love you like sexually-frustrated divorcees love 50 Shades of Gray. I love you, I love you, I love you.
Love,
Allison