Speaker to Speak at NU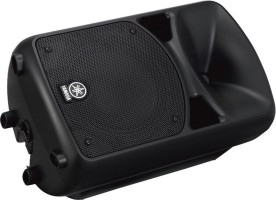 EVASNTON — This year has featured a number of prodigious speakers at Northwestern including President Obama, Bill Nye, Laverne Cox, and some guy that we're pretty sure is related to Calvin-Klein. Just yesterday, A&O announced that Yamaha STAGEPAS 600i is slated to give a talk next Thursday at Tech Auditorium at 8:00 PM.
This is the Yamaha STAGEPAS 600i's final stop on its college campus tour that has been widely publicized ever since it gained consciousness earlier this year.
"Forget Colbert or Obama or Sarkeesian, this is a fucking Yamaha STAGEPAS 600i. If I don't get these tickets I will LITERALLY die," Says Sophie Moore, BSM '17.
A&O representative Erica Goldman, WCAS '16, commented on A&O's decision to bring such a well-known speaker to campus. "We've heard nothing but positive feedback about the Yamaha STAGEPAS 600i, and I'm sure this talk will end up being a major blowout. I feel like a lot of sound advice will be channeled towards the students with great reception on their part. Hopefully the tone of the talk will really amp up school spirit, especially with Dillo Day right around the corner."
Tickets will go on sale at the door at 5:00 PM. All proceeds will benefit victims of tinnitus.