Mayfest: Disappointments to Headline Dillo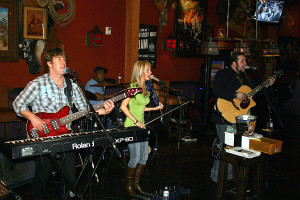 EVANSTON — Much to the dismay of the Northwestern community, The Disappointments have been booked to headline Dillo Day. Mayfest president Cheryl Lake delivered the news at an early morning press conference this past Sunday. "While the band is not exactly what you would call 'critically acclaimed,' they have a lot of spunk."
The Flipside was able to catch up with the underwhelming country-grunge band from Nowheresville, Ohio before the big performance. Lead singer Crash Cahones spoke about their upcoming performance. "We're really excited to play for an audience who most likely hasn't heard our chart-bottoming hit Swipe Right for Me. And if we get really drunk we might play some shitty songs like Smells Like Teen Spirit or All-Star."
Drummer Trevor Balseque named his favorite tune among their repertoire as We Don't Practice Our Instruments, but guitarist Chip Dickins claims his favorite is How Many Strings Are On This Guitar Again?.
Bassist Chet Paltrow assured us, though, that their entire set won't be originals. "We plan to throw in some Shut Up and Dance," he said, "and we will expect y'all to listen," he clarified as he cracked his knuckles menacingly… Chet didn't fail to give an equally concerning response when we asked about their sound. "Imagine if Keith Urban fucked each member of Matchbox Twenty long and hard. Each of us would be their individual bastard children."
Make sure to show up ready to chug for the four slightly more exciting acts leading up to The Disappointments: Jason Derulo, 4/5 Direction, a Bobb RA, and Jason Derulo again.