Student Lists 19 Likely Places He Lost his Keys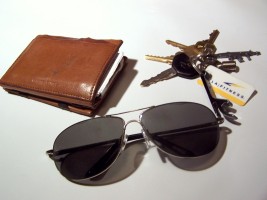 EVANSTON — Reports surfaced today indicating that an anonymous freshman lost his keys and wallet yesterday. Sources indicate his keys were on a purple lanyard with the word "Northwestern" written on it. At the time, the wallet held a $5 Blockbuster gift card and a fake Wyoming ID bearing the name Andre Claxton.
When asked about the potential whereabouts of his missing belongings, the anonymous freshman said that his stuff might be at the Deuce, or possibly at the Tappa Tappa Keg house, or possibly outside of Bobb or Hinman.
His original post on the Free & For Sale Facebook group indicated that he walked down Sheridan Road as well as Sherman and Orrington, stressing that his stuff was equally likely to be on each street. All area Uber drivers were encouraged to look for the keys and wallet, as the freshman took three Ubers the night of the incident.
Furthermore, the freshman disclosed that his stuff could also be at the Hooters in Peoria; or in Tashkent, Uzbekistan; or in the third stall from the left in the Norris ground floor bathroom; or at the Wal-Mart corporate headquarters in Bentonville, Arkansas; or at the federal prison in Terre Haute, Indiana; or near the rowing machines at SPAC; or at the Camp Nou stadium in Barcelona; or at an undisclosed CIA black site in Saudi Arabia; or at the Funky Buddha nightclub in London; or at Pitbull's mansion in Miami. He added with a grin on his face that his night was indeed crazy enough to warrant investigation of all these sites.
Anyone with information on the whereabouts of the keys and wallet are urged to contact the Northwestern University Police Department, Evanston Police Department, the FBI, Interpol, and the American Kennel Club.