Smart Dillo Only Gets 28 on ACT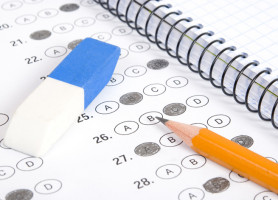 EVANSTON — Reports from ACT's headquarters in Iowa City earlier this week confirmed that Mayfest Public Relations Representative and Safety Activist Smart Dillo only received a 28 on popular college admissions assessment the American College Test, or ACT. According to initial estimates, this places Smart Dillo into the 58th percentile among armadillos nationwide.
While some deemed the score acceptable, a large majority of local students felt betrayed upon hearing the news of Smart Dillo's less-than-stellar score. "I first heard the news from my friend Georgie," commented Julie Stein, WCAS '16. "At first I didn't believe her, I mean, she only got a 32 so I take everything she says with a grain of salt, if you know what I mean. But then I started to look into it, and I couldn't believe it. This 'Smart Dillo' imposter was offering advice with a brain only capable of a 28? Despicable."
Mayfest president Christina Sym was shocked to hear the news. "We've employed Smart Dillo for many years as our safety P.R. representative. I'm equally disappointed and disgusted by the reports. Smart Dillo has been placed on unpaid leave and we're starting a thorough investigation into Smart Dillo's aptitude."
At press time, Smart Dillo could be seen walking through the halls of Annenberg Hall, where he felt a little more at-home with the SESP students.