Area Student Enlists Dad as Wingman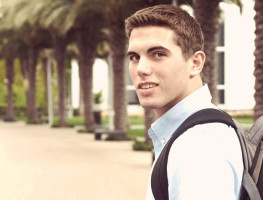 EVANSTON—Reports broke Friday that area student Marty Thompson, MEAS '19, has enlisted his dad as a wingman.
Faced with the possibility of dragging his loathsome virginity into the third month of college, Thompson requested that when his dad comes for Family Weekend, he brings "his game, (and also a few pairs of clean underwear)."
When The Flipside reached out to Marty's father for comment, Michael Thompson, 52, stated, "I want grandkids. I mean, not right now. Don't worry. I taught Marty the old Thompson Double-Rubber Wrap-and-Tap. But Marty needs some practice. If you don't use it, you lose it. That's what my pops always said."
According to the younger Thompson, the "game plan is to take dad to the Deuce and let him work his magic." Concerns have been raised as to whether this plan has any potential since it features both a fully developed man in the Deuce and the overcoming of Marty's severe feelings of sexual inadequacy.
However, to the second problem, Michael responded, "He's got nothing to worry about. His dick is HUGE! Trust me, I've seen it."