Freshman Can't Fall Asleep Without Soft Sounds of Roommate Masturbating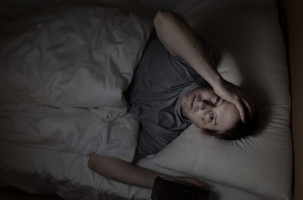 EVANSTON — Area freshman Jack Inhofe, MEAS '19, reportedly found he couldn't fall asleep without the subtle pitter-patter of his roommate's nightly masturbation.
Inhofe had been extremely perturbed at his roommate's nightly buffing of the banana and was greatly looking forward to having a few days of solace while his ROTC roommate was away at the Navy's yearly conference of Sea Men.
"I guess I should have seen this coming," said Inhofe. "I thought he had bad allergies, I mean he had so many tissues." Reports indicate that the act in question occurs with impressive regularity. "At first it really bothered me," Inhofe told reporters, "I mean it's loud…lots of grunting… sounds kinda like a women's tennis match."
"I couldn't wait to finally have some peace and quiet," recalled the freshman, "but as soon as he was gone, I couldn't sleep." Inhofe claimed he lay in bed, tossing and turning, unable to fall asleep for hours. "There's something about it…I guess it soothes me."
At press time, Inhofe was reportedly searching for an online sound generator that would most closely imitate the noise of his roommate's masturbation.