Governor Rauner Warms Hands by Fire of Burning Quran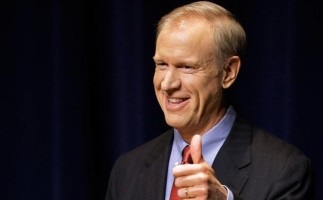 SPRINGFIELD, IL ­– Following the recent decline in state-wide temperatures, Governor of Illinois, Bruce Rauner, was seen warming his hands by the fire of a burning Quran.
"You know that feeling after you've been fly fishing in the brisk November air, right?" Rauner responded when asked about his curious heating practices. "I just needed something to warm my hands up before I go back to drafting another statement in response to Obama's ridiculous proposition that we should 'welcome refugees' who are coming from a country 'slightly worse than ours.'"
Sources report that Rauner has a large stack of Qurans beside each of his three fireplaces in his 50,000 sq. ft. Illinois Executive Mansion. "It's important that when the time comes, my husband can warm his hands quickly and efficiently, and these Qurans sure burn hot and fast," commented Rauner's wife, Diana.
Additional reports suggest that a current Rauner-hand-warming takes about three to four Qurans, but as the winter worsens, it could take as much as seven Qurans to warm the hands of the Governor. Rauner made sure to note that this wouldn't be a problem for his finances, as the Qurans were paid for with state tax money.