Willie the Wildcat: I'm William Now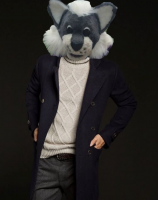 EVANSTON — Sources officially confirmed yesterday that Northwestern mascot Willie the Wildcat will now be going by 'William.' The name change was prompted by the desire to shed his peppy image and become a more sensitive and serious wildcat.
"It really all comes down to me entering adulthood." Willie began, "I felt that all the running on the football field and high-fiving everyone in sight was just a bit too childish for me. I believe it's time to focus on more serious things."
Willie has reportedly begun to make different lifestyle choices anywhere from the way he dresses to the music he listens to. "Marching band music no longer does it for me." Willie stated, "I've actually started listening to more adult contemporary artists like Lionel Richie, Celine Dion, and Josh Groban, just to name a few."
Many students and faculty seem to be supportive of Willie's change, including Northwestern President Morty Schapiro. In fact, Morty made a statement saying, "Willie has been good to us for so many years. If he thinks it's time to move on, then I wish him nothing but the best."
As far as future plans go, Willie's plans are still up in the air. "I'm actually thinking about writing a book." Willie said, "I've been debating between an auto-biography about my time here, or a young-adult novel." Regardless of what he ends up doing, Willie remains certain that he will attend as many Northwestern football games as possible, yet he will trade in his football jersey for a turtleneck sweater.