Mick McCall Surprised to Learn He Not Defensive Coordinator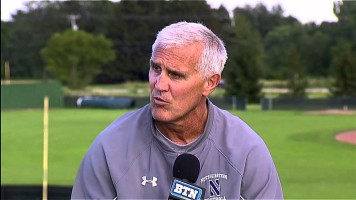 TAMPA, FL – After a blowout loss to the Tennessee Volunteers in the last game of the 2016 season, Offensive Coordinator Mick McCall was surprised to learn that he's actually not the Wildcats' defensive coordinator.
McCall, who's in his eighth season with Northwestern, has consistently worked hard to limit yards gained and points scored. "I thought we had played really well today," McCall said of the Outback Bowl matchup. "One time we almost scored a field goal but then we didn't."
Upon learning of his true job title, however, McCall looked back on all of the things he would have done differently both this past Friday and the past 90 games he's served as a coach.
McCall has famously coordinated trick plays that swung the game at the last minute. Some of the more memorable moments include a Hail Mary pass in a 2013 matchup with Nebraska and a slipped two-point conversion against Michigan last year.
Also known for his use of the two-quarterback system, McCall previously worked with QBs Dan Persa, Kain Colter and Trevor Siemian to create a unique, low-scoring configuration. "Mick really believed in starting multiple guys," Assistant Coach Dennis Springer said. "That way neither could really do their jobs well."
Going forward, McCall hopes to craft a better strategy for the 2016 Wildcat football team. "I've got a couple ideas up my sleeve," he said. "I heard that guy Justin Jackson is pretty good. Maybe I'll have him carry the ball."