Jeb Bush Misses Half Money Deadline, Calls Dad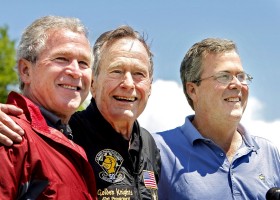 EVANSTON – With the NU Dance Marathon half-money last week, Presidential Candidate Jeb Bush allegedly found it necessary to call upon the help of his father for money.
"I have been hovering just below 10% for so long now and nobody is taking me seriously," claimed Bush. His plan of going town to town in Iowa asking for donations the past few months has been fruitless, he added.
These struggles come as a surprise after many in the media predicted Bush to be the top candidate to reach the half-money deadline over the last couple years.
"I just want to be in DM. My dad did it for four years and my big brother George did it too. My brother George kept us safe when he danced," exclaimed Bush between sobs.
Meanwhile, Donald Trump has claimed to have raised "…a huge amount of money. So much more money than anyone else. So much more. Just a great deal of money." This claim as of yet has not been verified.