Elizabeth Tisdahl and Donald Trump: A Comparison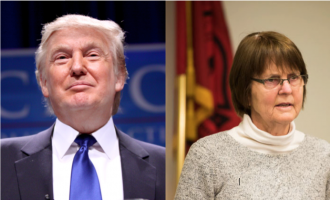 From the desk of the managing editor
Mainstream media has been enamored with Donald Trump ever since he announced his campaign for the Presidency of the United States. While Trump's campaign has often been shocking, ignorant, and bigoted, I couldn't help notice a similarity to someone much closer to our everyday lives here at Northwestern, Mayor Elizabeth Tisdahl. This is a comparison of the viewpoints of Trump and Tisdahl on important national and regional issues.
Immigration
Trump: Wants to build a wall along the Mexican border to stop the illegal immigration of Mexicans into the United States.
Tisdahl: Wants to build a wall along the Eastern side of Sheridan road to stop undergraduates from illegally entering Evanston.
Trump: Believes he can convince the Mexicans to pay for the wall.
Tisdahl: Will use the $1 million a year Northwestern already giving to Evanston to build wall.
Trump: Believes all immigrants should learn to speak English
Tisdahl: Believes all undergraduates should learn to speak Rich White.
Domestic Terrorism
Trump: Believes New Jersey Muslims celebrated after 9/11.
Tisdahl: Believes Northwestern Students celebrated after 9/11.
Trump: Proposed banning all Muslims from entering the country.
Tisdahl: Proposed banning all Muslim undergraduates from Evanston, along with undergraduates from all other religions.
Climate Change
Trump: Believes there is no unanimous scientific evidence for human-driven climate change.
Tisdahl: Likes the color green.
Crime/Police
Trump: Believes Capital punishment isn't uncivilized; murderers living is.
Tisdahl: Believes Brothel Law isn't uncivilized; brothels are.
Trump: Believes the police are the most mistreated people in America.
Tisdahl: Believes Evanston Residents woken up by your pregame at 8:45 PM on a Friday are the most mistreated people in America.
Trump: Does not drink alcohol.
Tisdahl: Is known to sit outside D&Ds in her car and give the evil eye to Northwestern undergraduates who purchase alcohol.
Most Recent Campaign Slogan
Trump: "Make America Great Again"
Tisdahl: "Make Evanston Great Again"