Iowa Caucus to be Replaced with Russian Roulette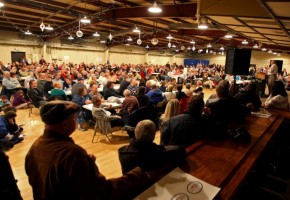 DES MOINES – The RNC and DNC have recently announced plans that this year's Iowa Caucus will be replaced with a game of Russian Roulette. "We feel that given that the failure of the caucus to correctly produce a candidate for the past 8 years," said Reince Priebus chairman of the RNC, "we've decided that in order to boost election coverage and please all sides of our parties, we decided that we would choose our candidates through a game of chance."
Iowa caucus goers were ecstatic over the recent decision. "Now we don't have to go out in the harsh winter just to argue with other people," said Ryan Dober, a Republican caucus goer of 20 years. Political pundits, however, were displeased with the decision, as all their current predictions will now be worthless.
The RNC and DNC have announced the date of the roulette on February 1st, where all Democratic and Republican presidential candidates will meet in separate, dark rooms with a gun. The RNC, however, has announced that they would put those polling below 5 percent in a separate room from the other Republican candidates with a gun filled with 6 bullets. "We decided on doing this for our lower placing candidates to see if they can realize that the gun is fully loaded," said Reince Priebus. Political pundits, however, are currently predicting that all 6 of them will be dead by the end of the night.
Overall though, people feel that this new process will give everyone a chance to becoming the next President of the United States. Recently, it has been reported that Democratic Presidential candidate Martin O'Malley has been practicing taking a bullet to the head to better his odds for February 1st.