Sheridan Construction Worker Laying the Pipe So Hard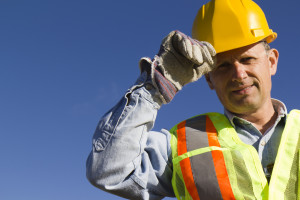 EVANSTON — With water main maintenance beginning on Sheridan Road this week and lasting indefinitely, students and townies alike have been enamored by one particularly passionate construction worker, Dick Hornberger, who was laying the pipe down so fucking hard. He can be seen sticking his rod into Sheridan just north of the Kellogg building.
Kelly Simon, WCAS '17, marveled at his abilities. "I've never seen anyone go this hard in my life! Every time I pass by, he's just shoving more pipe in like the ground is elastic. I see him out there every time I'm going to class, and he never looks tired. I've never met a man with that kind of endurance before!"
Hornberger has also aroused feelings of curiousity among other students. Jack Smith, MEAS '16, feels unable to look away from Hornberger during his frequent walks from Allison to Tech. "Every time I look at him, I feel like a voyeur," he told Flipside embarrassingly. "All that thrusting and grunting, one time I looked at him and… I don't know. It's almost like I wanted to experience the feeling of getting piped. "
When asked about his work, Hornberger was excited to share his techique. "I first try to make sure the pipes are nice and firm," he said. "The worst thing to do is stick your pipe down a hole when it's structurally weak. You also gotta make sure the ground is soft and moist. This creates more give for the pipe. It's hard work, and sometimes I just come out so sweaty and beat. Sometimes the water main spurts a little bit while I'm laying my pipe. But I'm proud of my work, at the end of every shift I'm satisfied and smiling!"
Hornberger will speak more about his line of work as the featured guest speaker at the NU Kink Education Society's next meeting.