Area Student Suspending Campaign for Girlfriend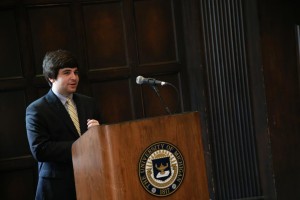 EVANSTON — At a press conference earlier today, area student Jack Embree, WCAS '17, announced that he is suspending his campaign for a girlfriend.
"After much thought and consultation with my campaign manager/roommate, I have decided to suspend my campaign for a girlfriend at this time," Embree said.
Many analysts had speculated Embree would end his campaign after consistently polling in the low single digits among attractive girls on campus.
"It was never really clear who Embree's constituency was. He never had a chance with the traditionally hot girls, but he couldn't quite build a coalition of quirky yet cute girls either," girlfriend campaign analyst Sandra Howard said.
Embree's campaign had also been running low on cash ever since he spent $20 buying drinks for a girl at The Deuce who eventually left with, in Embree's words, "that asshole Jeff."
In perhaps the final blow to his campaign, allegations recently surfaced claiming that Embree often asked for nudes from girls he just matched with on various dating apps, a scandal dubbed "Tindergate" by the press.
At the end of his prepared statement, Embree indicated that he's open to accepting a lower-level role in another relationship's administration.
"I would definitely take the third-wheel position for my friend Brian if he secures the girlfriend nomination. That would make me next in line, right? Right???"