Area Freshman Plans Trip to Skokie to Break Evanston Bubble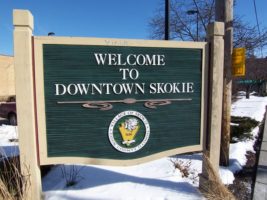 When Aaron Weinstein, SESP '20, texted the Shepard 3rd floor GroupMe this morning, he was already tired of the dining hall food, and Evanston fare seemed too close to home. So he brazenly stepped up, looking to introduce his friends to a more diverse area and cuisine.  The message read, "Yo, a few of us are looking to hit up a sushi place in Skokie tonight, heard good things, anyone want to come with?" According to Weinstein, he carefully crafted his message to ensure his floormates would be hit with "a full dose of FOMO" if they didn't tag along.
The group met by the Arch around 6pm and headed to the Davis El stop, but missed the first two trains, struggling to figure out how to purchase Ventra cards. "Once we figured it out," said Weinstein's roommate Louis Fitzpatrick, WCAS '20, "We could go anywhere!" They were ready to grab college by the throat.  The ride to Skokie wasn't too long, just a quick transfer at Howard to the yellow line, and they soon arrived at Abramowitz's Sashimi and Hibachi ready to try some of the exotic cuisine that The World's Largest Village has to offer.
"The best sushi I've ever had," commented Patricia Woods, WCAS '20, a premed chemistry student, originally from Ames, Iowa.  "It tastes like someone from Japan actually made it!"
After dinner, the group decided to take some time to explore the Silicon Valley of the Midwest (https://en.wikipedia.org/wiki/List_of_city_nicknames_in_Illinois).  They took a stroll through the Skokie Northshore Sculpture Park, and tried to visit the Illinois Holocaust Museum and Education Center, but were disappointed to discover it had closed four hours before.
Otherwise content with their adventure, the 3rd floor of Shepard returned to campus, excited to tell their other friends about all the great Chicago suburb had to offer, and begin planning their next trip to the mysterious town of Wilmette.