Justin Jackson Releases Tax Returns for Some Reason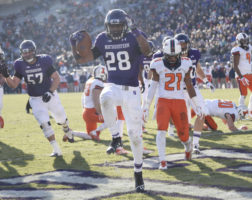 Earlier this morning, star running back Justin Jackson released his tax returns for no apparent reason, several reports have indicated. Jackson released to the public every 1040, 1099, and W2 form he has ever filed unprompted by anyone, a move that surprised his teammates, family, and the general public.
"I feel that it is my duty to my fans and to the American people to release my tax returns and ensure that no part of my financial background remains in the shadows," Jackson said to confused reporters.
Jackson's returns show absolutely nothing unusual for a college student, further raising the question as to why he decided to release them. His reported income includes wages from a summer job a few years ago, and that's apparently it.
"I don't really know much about football, so maybe this helps him with that somehow? I don't even think I have tax returns," freshman Alicia Fields, WCAS '20, said.
After releasing his returns, Jackson made a point to express his support for the peace deal recently brokered between the Colombian government and the FARC revolutionary group, another position which seemingly no one requested.