Area Freshman Watches a Lot of Porn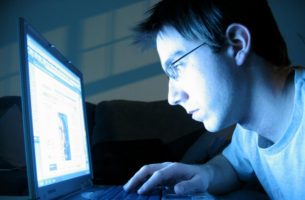 By Gabe Schmittlein
Earlier today Jason Tompkins, WCAS '20, finally acknowledged what everybody had already suspected, admitting that allegations regarding his browser search history were completely true. The RTVF major said, "Yes, I have been watching a lot of porn," but could not be contacted for further clarification. According to roommate Turner Stevens, WCAS '20, Tompkins has locked himself in his room, presumably to continue watching porn.
Stevens said that he first started worrying about his roommate when he "walked into the room one night at 1:15 a.m. to find Jason sitting in the dark at his desk, watching porn and eating Pad Thai." He continued, "He wasn't even jerking off. He was just watching the start of one of those creepy Fake Taxi videos for the acting, I think."
Some of Jason's other friends have raised similar concerns: Elise Peters, WCAS '20, said, "I used to hang out with Jason all the time but I had to un-friend him on Facebook because he kept sharing Pornhub links to my wall." Max Francis, MSJ '20, another one of Jason's friends, had this to say: "Tons of dudes watch porn, but Jason is taking it to a whole new level. I'll be hanging out with him in the library and he'll just whip out his computer and start watching a porno while doing his Russian Lit. reading." They, along with the rest of his extended friend group, have even begun talks of an intervention on his behalf.
Interviewing his parents yielded surprisingly varied reactions. According to mother Brittany West, "I'm really disappointed to hear this and I hope the University will do something to help my son." But, when father Dave Tompkins was asked the same question, he brightly said, "That's my son—if you don't watch game film you'll never get better."