Ken Bone Recalls Glory Days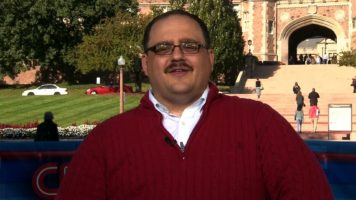 After a long career as a national figure, political analyst Kenneth Bone is filled with nostalgia as he remembers his glory days. Beloved by many, Bone considers his time in the public eye as some of the best times.
"It was a great run," said Bone. "I'm so grateful the American people treated me so well all that time. There were some great moments."
Among the highlights of his celebrity, Bone mentions the opportunity to show off his trophy wife to his thousands of fans. He also was featured on Chris Hardwick's late-night show Midnight reading facts about himself, a moment he swears he will never forget.
Fame comes with a cost, though. Bone recalls one time when he realized he had to schedule a day of no media interactions just to have dinner with his grandma.
"Look, those were the best times of my life," Bone explained. "But I'm glad to be able to live out the rest of my days in peace."
The ups and downs of being a celebrity were all worth it for Bone, who now looks back on those days fondly. For now, he is content to return to his drab life as a coal plant worker in the suburbs of St. Louis.