Electoral College Hit with Title IX Violation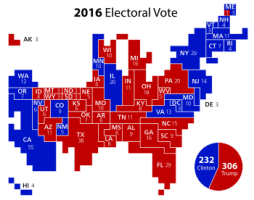 The U.S. Department of Education's Office for Civil Rights announced today that after a thorough investigation in the wake of last Tuesday's presidential election, it has found the Electoral College to be in violation of several Title IX statutes regarding gender equality.
"Our investigation of the Electoral College has uncovered institutional complicity in condoning and promoting sex discrimination, sexual harassment, and sexual violence against women," Office for Civil Rights spokeswoman Pamela Sherman said.
Title IX is a part of a landmark 1972 civil rights bill meant to prohibit sex discrimination at colleges and universities across the country. Many analysts speculate that this investigation was spurred on in large part by the College's elevation of Donald Trump, a known sexual predator, to a position of power within its domain. Furthermore, many people affected by the College's decisions have criticized its allegedly undemocratic and opaque decision-making process.
"The Electoral College has ignored the will of the people 10.6% of the time. The majority of us have expressed quite clearly that we do not support a discriminatory environment with a misogynist president like Trump, but the College feels bound to its arcane methods anyways," activist Veronica McKinnon said.
When reached for comment, legal scholars have said that anyone with civil rights complaints against it can form a state constitutional convention.