Weinberg Junior to Attempt Eighth Different Note-Taking Method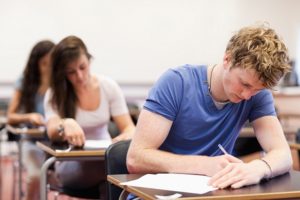 After an especially poor showing in his Fall Quarter Cognitive Psychology class, area fuck-up Ben Isaacs, WCAS '18, has decided that winter will be the quarter in which he finally figures out how to take notes that are actually useable. A declared classics major, albeit eyeing SESP longingly, Isaacs has attempted a new system of notetaking for each of his previous seven terms. He is now preparing to take as many lecture notes as necessary rather than only what will fit on the page he has designated for it.
"It's almost an experiment to learn through trial and error what actually works." Having already found that his grade decreases as his distance from the lecturer increases, Isaacs hopes to find a similar pattern through his increasingly robust data on what factors correlate most with success. Last quarter, he tried alternating black and blue pens between lectures, and last spring he reported trying to supplement his usual highlighting with notes in the margins. This follows intense measurements of indentations and font sizes from freshman year, and one experimental class of simply not going to lectures.
"I'm still not sure that there is much of a difference to be made. I can write in columns or rows or my standard operating procedure [an ungodly mess of the two]; I can write with block letters or distractingly slow cursive, and my grade is still average." Indeed, despite his best efforts to the contrary, his body of work on the whole has been almost aggressively uninteresting, making him the Septimius Severus of classics majors—not competently ambitious, but also not murdered in his bed by people who wanted something from him.
By the time he graduates, Isaacs hopes to be able to publish his findings in whatever Starbucks that will take him.