Go-Getter Applies to Two Internships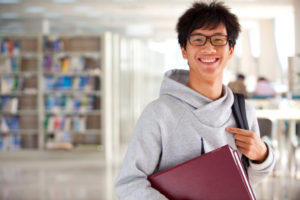 Local parents Pam and Arnold Wong were reported frozen in proud shock at the dinner table when their son, Johnny Wong, WCAS '18, called them to say that he had applied to, not one, but two internships.  Johnny, a Russian Literature Major with surprisingly no job offers waiting for him upon graduation, astonished his parents, teachers, and fellow peers with the sheer magnitude of his accomplishment. "We're so proud he's taken responsibility for his future. It's like we won the lottery of kids or something. Which, of course, we didn't. He is a Russian Literature major," said Pam with a shrug.
Johnny was allegedly in the middle of a marathon of M.A.S.H. when he was abruptly seized by the unshakable desire to care about his future. "It was like Colonel Sherman T. Potter was speaking to me, telling me to clear away the empty Doritos bags, put on some pants, open a goddamn window, and just get out there," Johnny said with a shrug.
According to witnesses, Johnny proceeded to open up his laptop's documents folder to find the resume he had used to apply to work at as a grocery store stock boy five years prior.  Wiping the beading sweat from his glistening brow, he proceeded to drag the antique Word file to the other tab, where a local newspaper's website displayed the words "Internship Applications – Submit Here".
Johnny commented on his persistence in the face of doubt: "I was ready to quit. And goddamnit, I wanted to. But with the Colonel's divine message still ringing in my ears, I persisted in applying to a different internship with the same newspaper, thereby conserving what little energy I had left."
"It was inspiring to watch. He collapsed in a pool of his own sweat and tears, but he did it," said Johnny's roommate, Darrel. Darrel was apparently so inspired by his roommate's magnificent feat that he attempted to fold his laundry like any sane adult, but gave up halfway through when he couldn't find his second fuzzy yellow sock. "It's a real testament to the human spirit's ability to persevere. I'm just proud I could be a part of it" Johnny grinned, returning to his TV show.