Bunch of Nerds Finally Asked to Dance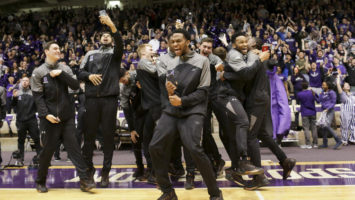 Reports out of New York confirmed earlier this evening that a bunch of nerds at Northwestern University have finally been asked to dance. The group of nerds, which had never been asked to dance before in its history, rejoiced at the news.
"Honestly, we would sometimes get jealous of those jocks at schools like UCLA and Kentucky always getting asked to the Big Dance while we were ignored, so it just makes me happy that we're included for once," senior nerd Nathan Taphorn said.
Many observers credit the dweebs' newfound success to their coach, Chris Collins, who, in a few short years, helped greatly improve their looks and confidence.
"When I first saw these geeks, they were trapped in the past due to their previous mentor, Bill Carmody. I had to get them caught up with the times," Collins said. "I'm proud of how far they've come. Sometimes, they actually look better than the popular kids at Wisconsin and Michigan State."
Some of the nerds have even fantasized before about the selection announcement itself. "Every year around this time I would dream about the selection committee saying our name and asking us to dance with any of their seeds. But I never even dared to hope it would be with an 8 or 9 seed," redshirt sophomore nerd Vic Law said.
Most of all, the dorks expressed a sense of relief. "No one's gonna make fun of us anymore for being the outcasts, the losers who've never been asked to dance. We're beautiful too and now the whole country knows it," Taphorn said, his eyes welling up with tears.
The Wildcats' dance begins Thursday, March 16 at Vivint Smart Home Arena in Salt Lake City. More rounds of dancing afterwards may follow.