White House to Hunt Journalists Instead of Eggs This Easter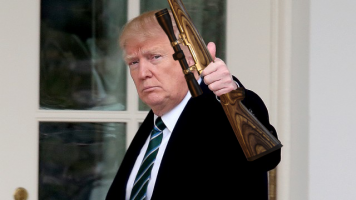 A recent press release by the Trump administration has announced that at this year's White House Easter Egg Roll, the White House will be hunting journalists instead of eggs this Easter.
"Our decision to change the rules of the annual Easter Egg Roll was not because we forgot to schedule the event, but rather because we sought to make things more interesting for President Trump," stated Trump's Assistant Press Secretary Jerry Sanders.
The change has been widely praised by President Trump, who sees it as the perfect opportunity to spend time with his two sons, widely-renown hunters and assholes Eric and Donald Trump Jr.
"As President of the United States, I've been doing a tremendous job at so far. But, I haven't had much time to spend with my lovely two sons, the fabulous Eric and Donald Jr. What better way to spend some time with them and talk with them about getting sweet business from foreign governments than by getting our guns, heading out to the White House lawn, and going to shoot  our biggest enemy, the free press."
Not all have been pleased with the change, however. Residents of D.C., who have gone to White House Easter Egg Rolls under the Obama administration for the past 8 years, have called the change "pretty weird" and "seriously fucked up." But Trump has held firm during this criticism, tweeting that "shooting journalists is a great activity for our nation's kids; how else are they going to learn how to get rid of fake news."
Recently, journalists from the New York Times to the Washington Post have received invitations to the White House for "a special event in your honor." However, given the ability for most journalists to keep in touch with the local news, most have decided not to go. So far, the only journalists confirmed to appear at the event are writers from Breitbart, The Huffington Post, and the Northwestern Flipside.