Nothing Is Being Built Outside of University Hall, Don't Worry About It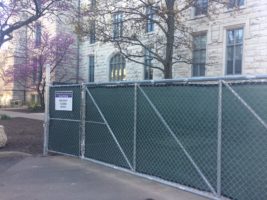 Last week, another green fence cropped up, this time outside of University Hall. While many assumed they must be working on a new building or the steam pipes or something, it turns out that they aren't actually building anything at all, so don't worry about it.
Northwestern Facilities Management says students should just ignore the green fence because despite the apparent lack of progress, this vital construction project isn't going anywhere anytime soon. Those complaining about losing their path to class have been rerouted on multiple occasions and told to "suck it up or transfer."
"There really isn't anything going on behind those fences," said a highly-placed source that preferred to remain anonymous. "If you ask me, they're just trying to steal even more happiness from the lives of students. I'd be depressed if I had to look at that shit all day too."
Allegedly, there are plans to throw up these fences wherever possible even if students eventually have to circle the whole campus to get to University. Random areas outside of Tech and Bienen are currently under fencing advisement.
The same source says that once these fences go up, they should be treated as permanent and recognized as the regular scenery. It's also rumored that trying to look over them will result in expulsion or death. Both Facilities Management and sources within the same agree that it's best if everyone just forgets about the annoyance and goes on with their day.