Ask Flippy: At What Point Should My Taxi Driver's Yelling "SHIT SHIT SHIT" Be Concerning?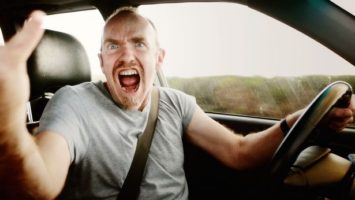 Dear Flippy,
I'm in the back of a taxi right now, frantically attempting to type out this message while fearing for my life, as well as my driver's. Currently, he is yelling frantically into his Bluetooth in fast-paced Spanish, interspersed with the occasional "SHIT SHIT SHIT" as he pounds the dash in seething rage while weaving in and out of on-coming traffic. Should I be worried? Then again, we are making good time. Maybe I'm blowing it all out of proportion. Any tips or advice would be much appreciated!
Sincerely,
Death Cab for Cuban
Dear Cuban,
Driving a cab can be a dynamic job, especially during high traffic hours. Crazy drivers are everywhere, and the stress can really get to you. Try to be empathetic to your driver's plight and talk to him. Ask him about his family, or about the man on the other end of the phone screaming for "his goddamn cut, or I'll cut you." However, your driver will have a gun in the glove compartment, so if he reaches over, just be cool. That being said, if you want to make your journey swift, enjoyable, and a little less terrifying try some of these easy tips. Offer to take the wheel for a bit, allowing your driver the chance to stretch out in the back seat to catch up on some much-needed sleep. In addition, drivers often store a lot of tension in their shoulders. Begin an unprompted deep tissue massage so he can let go of any pain he's carrying and get back to focusing on the road. To minimize his distractions, yell into the Bluetooth that if Sanchez is so desperate for his money, he'll have to take it from your cold dead hands. If you're feeling especially brazen you can fire a couple rounds from the pistol in the glove compartment for extra conviction. Finally, if all else fails, tuck and roll. It doesn't matter where you are, just get out of there.
Good luck and safe travels!
Flippy