Freshman Makes Eye Contact 14 Times in One Day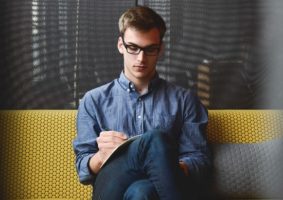 In an effort to make new friends and establish his social and outgoing college self,  Brian Wagner, MEAS '21, is actively increasing how much eye contact he makes each day. He's allegedly reached a new personal record by making eye contact with both humans and animals  an entire 14 times in one day.
"It's basic human physiology, really. I'll follow their head around like a snake until they look at me. Then I'll stare right into their eyes and not say a single word. If their pupils dilate, that means it's working."
According to Wagner, it's been a huge success for so far. He really feels he's developed a connection with the Sargent dining hall staff and the construction workers. Soon he plans to work up the courage to glance at his peers while walking down Sheridan and, if the gods smile down on him, possibly strike up small talk with a mutual acquaintance.
Despite his recent triumphs, Peer Adviser Anna McMahon, WCAS '19, was shocked when she heard about Wagner's eye contact endeavors. "Really? I always tried to say hi to him, and he never even looked in my direction! I'm so proud of all my PA-babies!"
When asked about his next steps, Wagner said he's considering an interschool transfer to the School of Communication. He says he doesn't want to be "that nerdy engineering kid" anymore and believes his strong campus presence will propel him to a possible homecoming king win.