Morty Announces Plan for $80 Million Temple to Phaeraxys, Goddess of Construction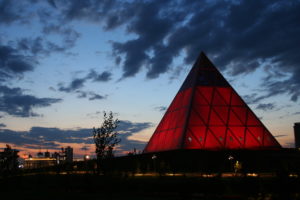 Last Thursday, university president Morton "Morty" Schapiro unveiled plans for an extravagant $80-million temple in honor of Phaeraxys, the ancient goddess of really loud and inconvenient construction. "The Great Phaeraxys, Lord of Construction, isn't satisfied with merely our construction on Kresge Hall, Mudd Library, the Lincoln dorm, Shepard Hall, Willard, the Public Affairs Residential College, the Kellogg Global Hub, the new lakefront athletic facilities, Welsh-Ryan Arena, Sheridan Road, those six months we spent digging up the Deering lawn for absolutely no reason, our upcoming plans to renovate Deering Library and 'New' Norris," Morty proclaimed to donors, press, and board members.
After falling asleep during a board meeting, Morty explained that the all-powerful deity appeared in a dream and commanded him to build the 5-story, 30,000-square-foot temple. As of now, the university plans to wait until the new Norris building is finished, then immediately demolish it and build the temple in its place. In accordance with Phaeraxys' instructions, the university will make sure the project runs no less than a year behind schedule and $12 million over budget.