NUPD Shuts Down Late Night Sheridan Construction Bulldozer Fight Club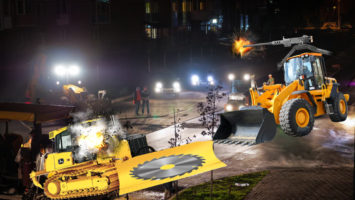 After a 3 a.m. raid took down the underground criminal enterprise, Northwestern Police announced at a press conference today that it has shut-down the notorious Late-Night Sheridan Road Bulldozer Fight Club (LNSRBFC).
"Our tactical operations team ambushed the LNSRBFC during one of its deadly Dozer Deathmatches, arresting key group leaders 'Fury Foreman' Roger Beckham and Michael 'Maniac Mortar Man' McKinness. The message is clear: brutally splitting non-union construction workers in half with a bulldozer's metal blade has no place at Northwestern."
An anonymous former member of the LNSRBFC, known only as the "Caterpillar Killer," told the Flipside that he's glad the group was finally brought to justice.
"I'll never forget getting thrown from my 'dozer during the Sheridan-Noyes Intersection Vivisection Cage Match," he said. "I damn near got shredded by the multi-shank ripper on Maniac Mike's machine. That's when I realized how truly sick these people are."
Sources have further alleged that Northwestern President Morty Schapiro was seen fleeing the raid wearing nothing but a hard hat and bloodied neon vest.