Michael Bublé Beginning Defrosting Process for Christmas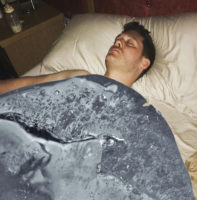 With the last spooky traces of Halloween fading from campus, along with most of the sunlight, comes the advent of the holiday season. In response to the public's unquenchable lust for kitschy Christmas consumerist classics, Michael Bublé, jazz singer and elevator music icon, has begun the process of defrosting himself for the Christmas season.
According to sources, every year Bublé enters his den shortly after the Christmas season ends. While there, he cryogenically freezes himself to ensure his music and essence are not impacted by other holidays. Bublé remains in this frozen state for around 10 months, hidden in his den. Then, called by the scent of peppermint hot chocolate and spiked eggnog, he mysteriously emerges at some unknown time in early November to fulfill his Christmas responsibilities.
When asked to explain the complicated process behind Bublé's Christmas rituals, Crypto-Christmasologist Alan Lane responded, "We can never predict how Bublé will react to the advent of the Christmas season. Sometimes it takes him weeks to thaw, and sometimes he appears almost immediately. He's truly a fascinating Christmas phenomenon." Lane also added that he expects Bublé to team up with Mariah Carey, who has also begun her similar defrosting process, sometime in the near future.