Willie the Wildcat's New Memoir, From Litter Box to Football Field, Sells 2 Million Copies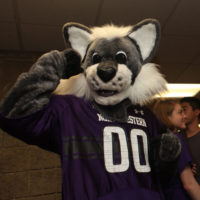 After being published in hardcopy and Kindle form last week, Willie the Wildcat's new memoir, From Litter Box to Football Field, has sold approximately 2 million copies worldwide. The memoir, which has already overtaken Hillary Clinton's What Happened on the New York Times bestseller list, highlights the mascot's childhood and adolescent years.
"People think that I'm just this fierce, scary cat who only loves sports, and I wanted to use my book to combat that stereotype," said Willie in an interview moderated by animal speech expert Dr. Doolittle. "I wasn't always wild; in fact, my childhood was pretty sheltered. I grew up in an upscale three-bedroom apartment in the Upper East Side, where salmon-flavored whole-grain Meow Mix™ was pretty de rigueur. I never wanted to be a mascot growing up. My dream was to move to an artist colony in Paris to pursue my passion of paw painting, but I got addicted to coke and they forced me to be a sports mascot to serve my sentence. It was either that, or prison."
Football tailgater and Bud Light connoisseur Chad Smith was shaken after he finished listening to the audiobook. "Willie the Wildcat's childhood is much darker than I thought," he said in an interview. "I'll never be able to look at him dance at halftime from now on without also considering how he has depression because his parents were never emotionally available for him."
Sources confirm that Willie the Wildcat's memoir will be the next One Book selection for the Class of 2022, and that the freshman class will see the Broadway musical Cats in lieu of Hamilton.