Lonely Freshman Rides Tandem Bike in Hopes Someone Will Hop On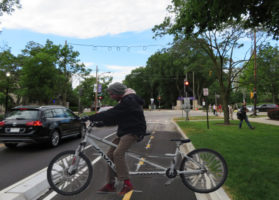 Citing longtime feelings of loneliness, Weinberg freshman Gerald Benson decided last Wednesday to invest some of his money in a lightly used tandem bicycle. After being spotted numerous times, on his own huffing and puffing down the newly refurbished Sheridan bike lane, he finally stopped to explain to Flipside his thought process regarding the purchase.
"I was just hoping, someone would hop on with me," Benson said through labored breaths as he struggled to put the tandem bike's kickstand onto the ground. "So far, I haven't had any luck, which stinks, because turns out, riding a tandem bike by yourself, is pretty tough."
Gerald went on to explain how he requires at least a 4 foot radius to complete a turn, and then described the guilt that comes with leaving a tandem in a bike rack.
"Some racks don't have a lot of space, you know? And there I am, taking up room with my silly two-seater. Sometimes I just bring it into my classroom and lean it up against a wall. And even doing that hasn't been the conversation starter I expected."
Despite other students' pronounced lack of interest displayed in joining Gerald on his tandem misadventures, the isolated yet optimistic freshman hasn't lost faith in the bike.
"I just know that one day, after my 9 a.m. class, someone will be waiting for me outside Kresge. They'll see my mint green tandem bicycle and the two helmets I always keep in the front basket. They'll look at me, and ask with a smile, gesturing toward my humble set of wheels, 'This seat taken?'"
With that, a smile, and a stifled sob, Gerald Benson clicked into his cyan blue helmet and waved goodbye to Flipside staff, starting once again to wobble steadily down the ever-bustling Sheridan road.