Report: Your Boyfriend Cheated On You Because He Has 'AND' In His DNA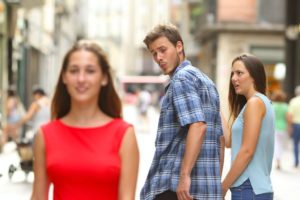 The scientific community was in shock this weekend after a statement put out by researchers at Northwestern University announced the discovery of Infidelity as a phenotype directly linked to the expression of the "AND" gene in males.
Ever since the discovery of the "AND" gene in the DNA of Northwestern students several years ago, researchers have been busy investigating the different ways in which the gene expresses itself in an effort to better understand the student population.
One group of scientists at the Fienberg School of Medicine had been particularly interested in studying the expression of the "AND" gene in the male population at Northwestern. After years of grueling research and testing, as well as millions of dollars in government funding, these researchers were thrilled to discover that the high rates of infidelity in male students on campus was due to the gene, and not just their shitty personalities.
WCAS junior Bradley Joseph and an undergraduate research assistant at the lab responsible for this discovery commented on the scientific method behind the discovery. "My P.I., Dr. David Le, noticed several trends on campus, such as heated arguments in the frat quad filled with key phrases such as 'with THAT bitch?' and the frequent sporting of bro tanks by males, even in the winter. These practices were happening at a much higher than average rate on NU's campus, and they also correlate highly with male students who are incapable of monogamous practices. Dr. Le was convinced there was something more at play here."
Reporters reached out to several male students across campus, and were met by a general enthusiasm at the announcement of the discovery. Mason Carter, MCAS '20, was especially delighted with news of the scientific breakthrough. "I can't wait to tell my on-again off-again girlfriend the good news. I'm not a scumbag after all!"