Kentucky Gets Spectacular Last-Minute Victory in Bad Coaching Bowl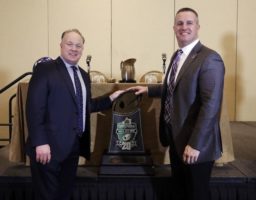 NASHVILLE—Kentucky football coach Mark Stoops achieved the incredible on Friday evening, coming from behind to defeat Northwestern's Pat Fitzgerald in a bad-coach contest that will be one to remember. After a poorly executed trick-play on fourth down in the red zone followed by a decision to go for it with a seven-point lead on his own thirty-nine yard line, Fitzgerald seemed to have this one in the bag.
Kentucky's coach could not be stopped. With thirty-seven seconds left, Stoops brought himself within striking distance by forgoing a game-tying PAT in exchange for a failed two-point conversion, then broke the tie by deciding not to go for an onside kick.
"Of course, I'm proud of the boys for getting the win today, but I'm even more disappointed in myself," said Fitzgerald in the post-game press conference. "I take great pride in my reputation as an absolutely insane play caller, but despite my best efforts, Mark got the better of me."
"I have a lot of respect for Pat," said Stoops. "That guy's crazy. But this is the South – the big leagues of crazy."
Coach Stoops decided to share the Golden Dunce Cap trophy with the referees, who made what he referred to as "the worst calls of all."