Mississippi State Bans Hog Fucking After Incident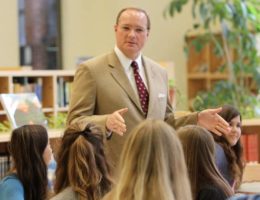 STARKVILLE, Miss.—Citing changing times and Mississippi State's ongoing quest to provide students with the best education available, Mississippi State President Mark Keenum has released a statement banning hog fucking in all forms. Previously, university regulations had permitted it at parties and events when organizers provided proof to campus officials that the hog in question was both free-range and free of any harmful parasites. However, after a recent incident endangering several students and a prizewinning Berskshire sow, the university has been forced to crack down.
In his letter to the university, Keenum stated, "Mississippi State can no longer tolerate hog fucking. It is only natural that some will be disappointed in the loss of our longest-standing tradition and the university understands that. But changing attitudes and increasingly risky hog fucking have necessitated a transition away from fucking and subsequently cooking animals. My goal, along with every staff-member of this prestigious institution, is to offer as many pathways to success as possible. Unfortunately, hog fucking is no longer one of them. This policy will go into effect September 1st, 2018, in order to give student organizations time to safely clear out their pig pens. In order to facilitate a responsible end to hog fucking, all students will be offered 50 percent off coupons towards Skeet's Traps and Guns, located in the student center. We encourage those most affected to reach out to your local swamp bar and drink until you feel ready to ease the transition away from hogs with a step in the right direction, like cousin fucking."
Already, this decision has been met with protests from a large percentage of the student body. "How else are we supposed engage pledges without a trusty spitroast?" wrote an anonymous fraternity member, "I only met some of my friends after we were blindfolded, stripped, and force-marched to a shack in the forest where a 300-pound swine was leashed to a stake in the ground. That night with Brunehogda changed our lives and it's been an important tradition to me ever since."
Nevertheless, University spokesman Skeet Curtis announced the university plans to move forward with the hog fucking ban. "This is hard for all of us," he stated during a recent press conference, "many of us have parents, even grandparents, who grew up fucking hogs right here at Mississippi State. Some may even have half-human half-pig hybrid monster siblings locked in the shack on the edge of the swamp that you keep alive by feeding raccoon bits and wayward Northerners."
"That being said, hog fucking is dangerous and has no place on a university campus. The recent incident has shown us all that even the most hallowed traditions can cost lives. We also urge students to resist even deadlier alternatives. Gator fucking has been banned since 1998 for a reason and cow fucking, no matter how tempting an alternative, is equally dangerous. This is the right decision and will allow Mississippi State, and all of its students, to remain competitive in the 21st century."
Agricultural finance analysts are already seeing the effects of the ban. "This decision made by the university affects the whole town," stated Ralph Girden, a senior member of the Mississippi Pork Wholesale Board, "the orders of 200 to 300 pigs every couple months allowed generations of farmers to make a living here. With the ban in place, the hog fucking economy is going to dry up and I wouldn't want to be here raising pigs when it does."
Already rumors are spreading of black-market hog fucking operations setting up in the area. "I don't like this one bit," reported Cassius Hitchens, head of campus security, "the kids are still going to be fucking hogs. We all know it. Hell, half of us on the force do it. But now those kids are going to be fucking corn-fed hogs. Maybe even hogs grown in cages and forced to take growth hormones. Believe me, this university is going to see a spike in hog-fucking-related injuries."
Those involved in this most recent hog fucking incident could not be reached for comment. Vocal critics of the ban are accusing President Keenum of cracking down only after his own prizewinning sow got fucked but Keenum has not released another official statement.