North and South Campus to March Under Same Flag at 2018 Dance Marathon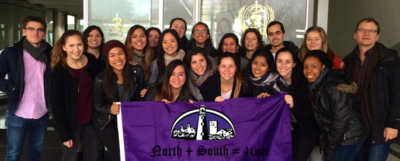 North and South Campus reached an agreement late last where their dancers will march together at the 2018 Dance Marathon opening ceremonies. According to representatives from South Campus, the two regions will be entering the tent under a unified flag this winter.
In addition to the unified march, there have also been talks of the two Campuses forming a joint fundraising team. Frank Clark, a Weinberg Economics major and the North Campus representative spearheading this team, stated his high hopes for the team's earning potential. "The North's impeccable marketing tactics combined with the South's strong social skills are sure to result in a successful amount of funds. We really want those double block changes. And foot rubs!"
North and South have also agreed that their dancers will train together for the traditional sunrise jog around the tent. South Campus dancers will travel to the Henry Crown Sports Pavilion, located on North Campus, to train with the delegation of dancers there.
The Campus Unification Flag features a purple silhouette of Northwestern's Evanston campus, and has only been used a handful of times in the past. The last time the two campuses marched under the flag was while doing a lap together at the 2007 Relay for Life.
South Campus, which traditionally hosts Dance Marathon, said it hopes this partnership will help to ease tensions between the cold, isolated North and the somehow slightly less cold South. Skeptics of the union believe that North Campus is working on improved relations with the South in an effort to ease Sodexo-led sanctions on edible food at Sargent.