Northwestern to End Alchemy Program After 124 Years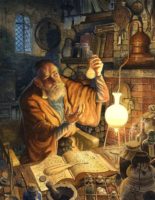 After a string of recent controversies, Northwestern publicly announced that its infamous alchemy program will end not with a whimper, but with a bang. Citing an increasing number of students suffering chemical burns and various other injuries involving transmutation, Dean of Phrenological Studies and Alchemy Zanzar Pralzaban announced the cessation of the storied program in a press release delivered by three-eyed falcon.
"We are sad to say we will go away," Pralzaban said, reading directly from the release at a press conference earlier today. "By fang of snake and claw of drake, all our livelihoods have been put at stake. The molten gold, I've been told, is part of an administration old. The burns, the cries, the screams, the joy – no longer available to you girls and boys. The oracles told in extant rhyme that it was the end of this program's time. And so, to all, we say farewell. And curse this administration to burn in hell."
Pralzaban was not available for questions, as he disappeared in a cloud of sulfur immediately after finishing the statement.
Current students and grad students within the program are reportedly being merged with the chemical engineering program but are facing difficulties using MATLAB to solve their problems instead of runes of power. Frustrated students have been seen summoning minions of the elder gods thought long extinct to cause havoc during their professors' office hours.
Already several low-ranking members of the President's office involved with the decision to end the program have disappeared in suspicious circumstances. Despite sightings of unnatural beasts and strange portals around campus, officials have gone forward using the funding from the program to increase moped subsidies for student athletes.