Northwestern Ranked #5 for College Dining in Evanston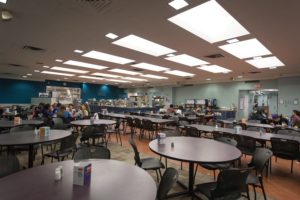 In the first positive publicity story for the Sodexo Corporation, Northwestern was recently ranked No. 5 for "best college for dining food in Evanston," according to an online list. Sources report that the administration was very happy to hear the news—since the list was published, a new banner advertising the school's food ranking was put up on the Weber Arch in lieu of the previous MLK banner.
"This is fantastic, but it hardly comes as a surprise," said Rupert Kim, Dean of the Hot Cookie Bar. "Our dining halls have such great food that even celebrities like Stephen Colbert, Meghan Markle and Julia Louis-Dreyfus have eaten here!"
President Morton Schapiro, recently ranked "best current president of Northwestern," told Flipside reporters after the dining hall report came out that he was happy to just be in the top ten for once.
"This is a huge honor," he said. "I mean, Evanston is super big so I assume there are lots of other colleges we were competing against, right? Right guys?"
Although Northwestern's food scene is flourishing, other parts of campus still leave much to be desired. SESP is only ranked #75 out of the six undergraduate schools, and the lakefill's ranking trails behind the landfill and Dr. Phil.