Raccoons Break into Tasty Garbage with Their Little Hands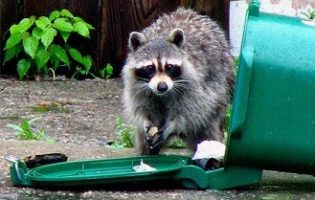 In the early hours of this morning, multiple raccoons were spotted digging tasty scraps of garbage out of the dumpsters behind Hinman Residence Hall, sifting through the delectable morsels with their little hands.
Cellphone footage of the event obtained by the Flipside shows a leader raccoon splitting open a garbage bag with his nifty little paws, revealing a scrumptious pile of trash below.
Making deft use of their adorable little mitts, the remaining raccoons scrambled up the side of the dumpster, dived joyfully into the garbage inside, and feasted on a magnificent buffet of pizza crusts, expired chicken wings, coffee filters, potato salad, Chick-Fil-A sauce, and red quinoa.
JT Pickerington, the Medill freshman who filmed the incident, reported that the raccoons made quick work of the tasty garbage and were gone after ten short minutes. "They were so efficient, the little rascals!" he said. "They picked everything up, just like a person! But with the tiniest hands…!"
Pickerington then referred reporters to the video he posted on Snapchat, unable to comment further without giggling uncontrollably.